Pushing Boundaries - Dunamaise
Following the success of the Printmaker's Council's show "Pushing Boundaries" in the Gallery at Farmliegh, the entire show travels to Dunamaise and opens on January 12th 2017.
Paper Work - United Arts Club show
UPDATE: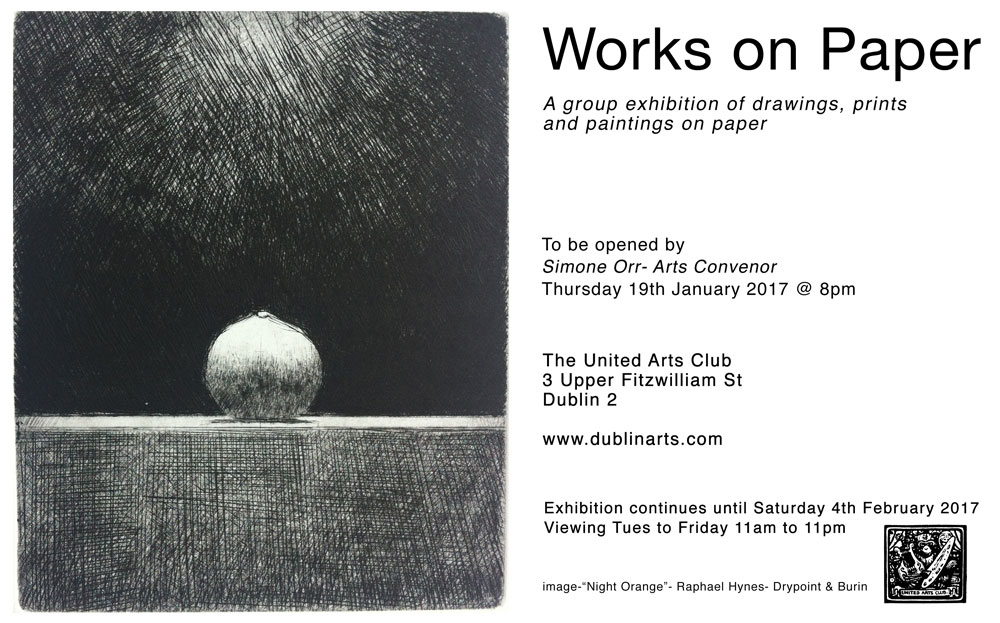 The New Year brings new opportunities, and Marie-Louise is pleased to have been included in a showcase of works made on paper. This is a reprise of a show first put together in February of 2016, and will include many of the same names, but all with new work.
Marie-Louise will submit new drawing and a recently completed print. Watch this space for images, and news of the other artists.
United Arts Club, 3 Upper Fitzwilliam Street, Dublin 2
Studio Open days are upon again. Please feel free to drop in during these dates and times; you will be greeted with a glass of something nice and maybe even a mince pie!
Marie-Louise has received the good news that Fragment II has been accepted in The Masters; a series of annual exhibitions run by the Royal Society of Painter-Printmakers. This year, the print method to be examined is intaglio* and the exhibition will be curated by Norman Ackroyd - RA and RE.
Image from BBC's programme: What do artists do all day
It has to be noted, that Norman Ackroyd is an artistic hero in Marie-Louise's eyes; his work is imaginative, and beautifully made, he really is a master of his craft.
The exhibition runs from 9th to 20th November in the Bankside Gallery in London - next to Tate Modern.
---
*Intaglio from the Italian intagliare - to cut: in its broadest sense means that the plate has lines cut into it to accept ink; either by direct engraving with sharp impliments, or by etching with an acid.
UAC - Arts Committee Show
Marie-Louise has been a member of Dublin's United Arts Club (UAC) since before leaving Art School (NCAD), and is a long-standing member of the club's internal Arts Committee. This year, the esteemed visual artist members of that committee are putting on display a selection of their own works for the club's bar.
The artists are:
Tom Ryan - Painter and UAC's president and Past President of Royal Hibernian Academy (RHA)
James English - Painter and Officer (Treasurer) of RHA
Harrie McManus - Arts educator of many years and TV artist with RTÉ
Carmel Mooney - Painter, sculptor and author of international renown
George Walsh - Painter a sculptor in glass, with many works in public collections
Marie-Louise Martin - Printmaker, arts educator and all-round fab person